Flying Training
Lesson 63: Solo in Warrior
Sunday 3 Aug 2008, 2.30pm in Warrior VH-PBS with Jason Regan
Weather: wind W-SW, 5-8 knots.

What a beautiful day for flying - not too much wind, smooth air, crystal clear skies, warm. Just perfect.
I spoke to Jason and Jim beforehand as they were wondering exactly what I was looking for. I explained that it was simply to get to solo standard on the Warrior. They wondered how many hours I'd had on the Warrior - I said about 6 and the consensus was that I should be solo on it by now.
Jason asked specifically what I was doing wrong and I said flaring too soon. He said this was common in Citabria pilots, ie being ground-shy. His suggestions were to fly it all the way down to the ground, and then to flare in stages, rather than in one movement. He also said that flying the Warrior was all about 70 knots - for take-off, climb, approach and landing.
I liked Jason's laid-back approach. He didn't say too much before or during the flight. He lives in Canberra, and comes up every second Sunday. By the time I landed after my solo flight he'd gone.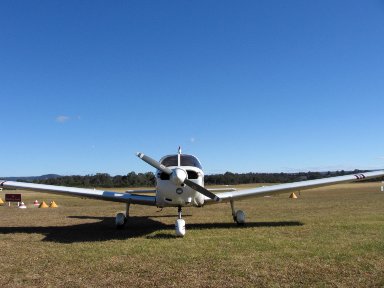 Anyway, there were no surprises on the preflight. The landing light had a broken filament) but at least the rotating anti-collision beacon on the tail worked. Tanks were full - 130 litres.
I remembered all the tips on start-up (but forgot "Clear prop!"). The radio was a little complex - we used the top GPS/COM unit with flip-flop, but I should examine it more carefully later as there's another unit underneath.
On taxiing Jason just warned me not to go too fast. I was reminded of my saying the same thing to Cameron as he approached pedestrian crossings...
At the run-up bay Jim Drinnan and student were already there in WKM, facing south-west (ie away from the taxiway), so we left them plenty of room to turn around.
After take-off I climbed at more like 80 than 70 knots. Jason reminded me to keep right rudder in when in a full power climb. We turned crosswind early as it was a busy circuit and we wanted to keep it tight. The tower told us to follow a Citabria (which turned out to be Jim) but neither Jason nor I saw him out wide so we accidentally cut him off and were suitably told off by the controller

. Apologies, Jim.
For the landings. Jason suggested 1-2 stages of flap, depending on whether I was too high or fast for 1 stage. On the first one I followed Jason's instructions and flew it all the way down to the runway. On the second I ballooned slightly and the landing was heavier. The third was smooth and Jason asked me how I felt about it. I was happy to make the next one a full stop, and it was probably the best of the bunch.




So I let Jason out at the run-up bay and taxiied back up the hill for 24. The first circuit and landing were fine. The second resulted in the tower asking me to go around because the aircraft ahead of me taxied all the way up to the other end of the runway before turning off. I just gave it full throttle, moved to the right of the runway and retracted the flaps (in future, one stage at a time would be better to minimise the nose-down trim change).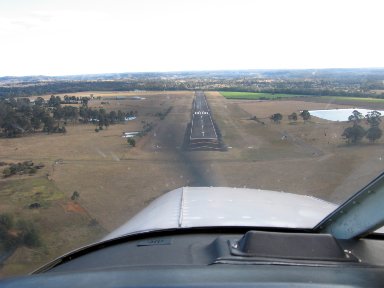 The third solo landing was a greaser, really nice. It followed a rather long downwind as I was looking for one a/c too many (the tower gave me #3 behind an aircraft inbound on final from Oran Park, and I must have miscounted because I eventually had to call the tower to get an updated position on the aircraft I was to follow, which turned out to be a Cessna abeam of me).
The last landing, obviously, was a full stop and I must have floated along for a while because I missed the tarmac taxiway and had to use the grass one. Maybe I was too distracted by grabbing a couple of photos.
Craig has confirmed that I can now take passengers in the Warrior. This means I could potentially take all the boys (though three might be a better load as they will then all have their own seatbelts). Jason said I should be working towards converting to the Cessna 182 as that's what most people hire once they have their PPL. Remembering the comfort of the flights Andrew and I had to Cootamundra, and Wollongong, I agree, though for plain fun the Citabria's still tops.
Photos