Flying Training
Lesson 37: Circuits
Sunday 15 October 2006, 8.00am in Citabria VH-MWY. Instructor: Jim Drinnan
Weather: cool (19°C), cloudy, wind from the south at 5 knots
Arrived early and filled out the paperwork while I waited for MWY to return from the last lesson. After a quick preflight (controls, seat adjustment, fuel and oil), Jim had me taxi out to runway 10. I flew approximately three circuits on 10, taking care to climb at 70 knots, and make my turns square. On the last approach I landed a little shorter than I would have liked (actually on the runway number panel), but Jim was untroubled.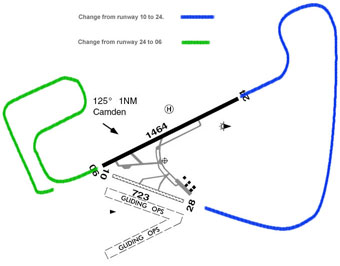 Since other circuit traffic was building up on runway 24, we followed the track marked in blue to join the circuit on 24, by extending the crosswind and then making a 270° left turn onto base.
When the tower came on air at 9am I'd completed three or four circuits on 24, and had just started a downwind leg, but the wind (such as it was) had changed, and the tower instructed us to make a left turn and rejoin base on 06 (the green track). I flew a couple of circuits on 06 before Jim asked if I wanted to do a couple on my own. Yes, I did, so I dropped him off at the corner of the hangars (remember stick forward to let the instructor out!) and taxiied back out to 06.
It felt good to be on my own again, and I took care to trim for 70 knots on the climb out, choose a landmark in line with the wing to keep my crosswind turn square, and reached circuit height in time for the downwind leg. Radio call and downwind checks used all my time, then it was carby heat to hot, throttle back, trim and turn onto base. A little throttle to reach the final turn at 800 feet, and then I was lined up, ready for my first solo landing since the excursion on 17 September.
Well, I must have had control over the speed and attitude, because we landed and stayed down, though closer to the centreline would have been good. Time for one more, so round I went. This time I was distinctly left of centreline, but apart from this I was happy with the landing, and as you can see from the pictures below Curtis were able to use the aircraft again. During a brief chat with Kerry afterwards she asked rhetorically, "You landed slowly enough this time to stay landed?" and I suppose that probably was a large part of what I was doing wrong last time.
Photos
Click thumbnails to enlarge